Industrial Full Automatic Fresh Frozen Sweet Potato Chips Production Line Frozen French Fries Making Machine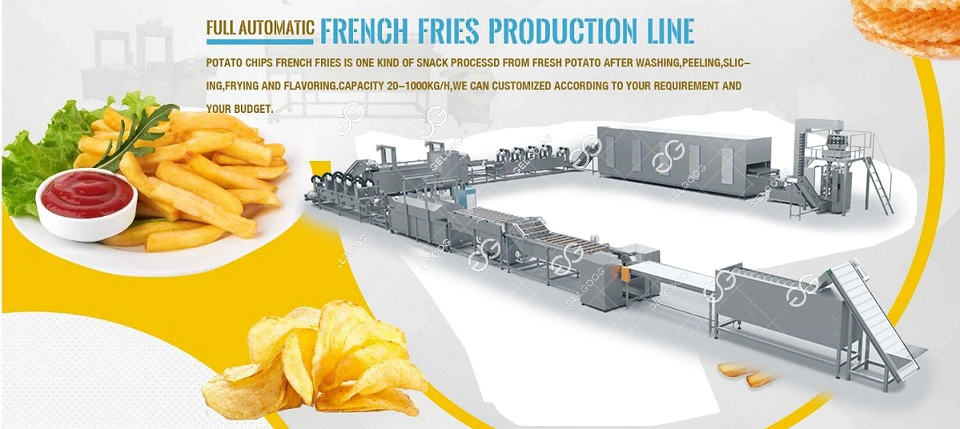 Potato Requirement
Oval in shape Dry material content≥20% Sugar content≤0.4%;
Length ≥68mm Color outside is yellow Color inside is white
Less and small bud hole

Products Advantage
1. Process capacity (finished capacity 100kg/h to 2000kg/h) and work flow can be customized.
2. All equipment are made of SUS304 stainless steel, electrical apparatus element is Schneider brand.
3. Heating method: Electric heating, Gas heating or Diesel heating (equipped with RIELLO or BALTUR burner), etc.
4. The size of French fries and the thickness of potato chips are adjustable.
5. For French fries line, we have special equipment to remove the unqualified fries.
6. With special designed fryer, quick heating and energy saving, enabled good performance.

French Fries Production Line Manufacturing Process
Lifting feeding -- cleaning and peeling machine -- picking line -- hoisting machine -- slicing / strip machine -- rinsing line -- blanching machine -- vibrating drain machine -- air-cooled drain machine -- Frying line -- vibrating and draining machine -- air-cooled oil separator -- mixing machine -- conveyor -- packaging machine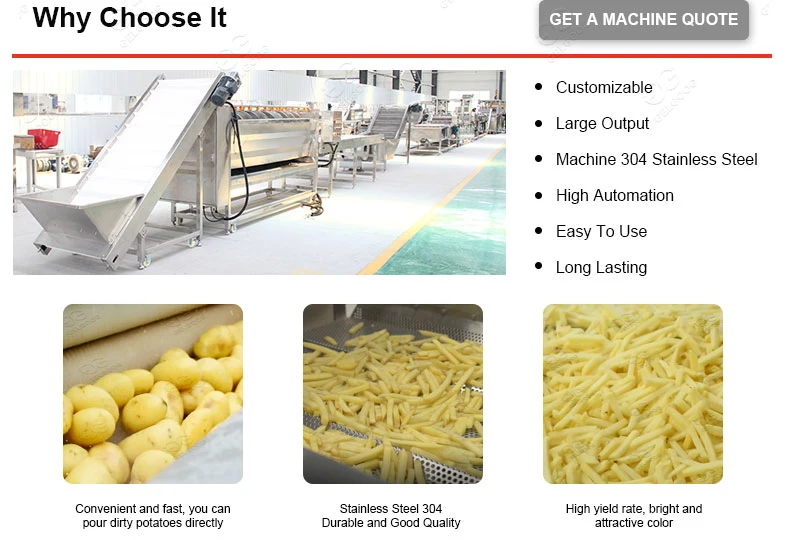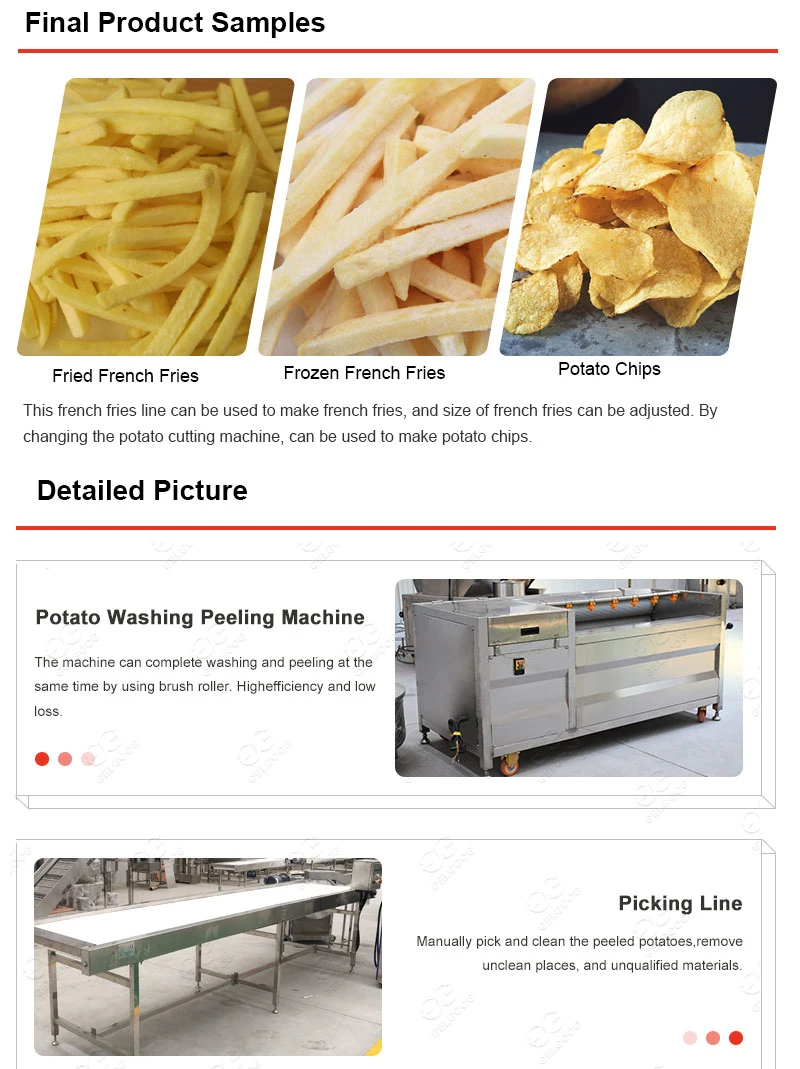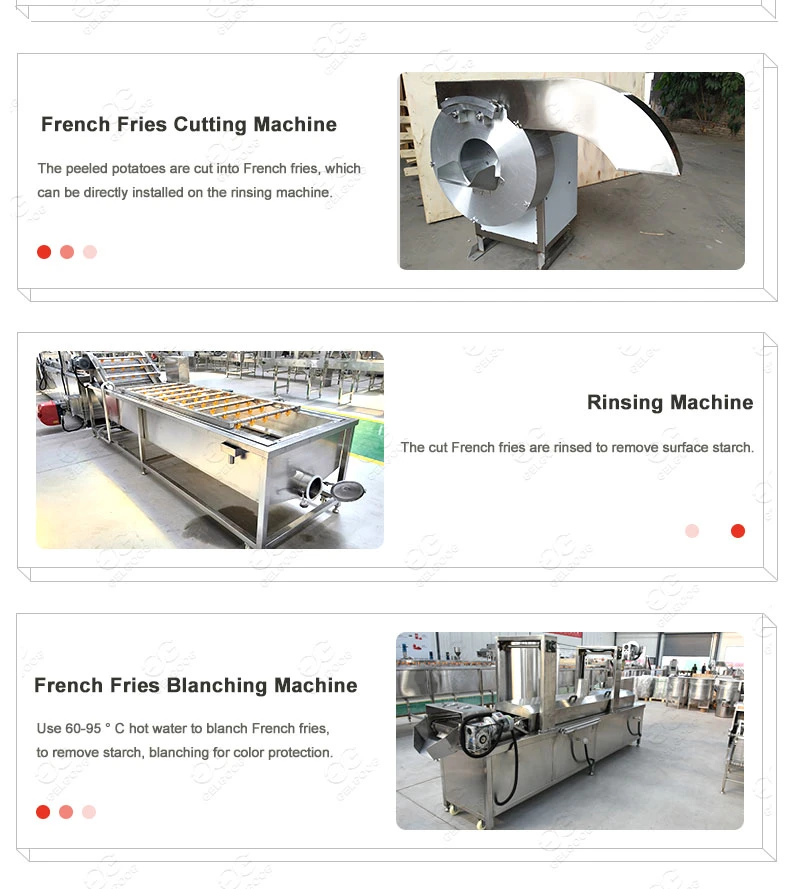 100-150kg/h Fully Automatic Potato Chips Line Technical Data
- The length of the entire production line is 50 meters.
- Water consumption: 0.3 cubic meters per hour.
- Labor needed: 3-4 people.
- Land needed to install the production line is 200 square meters.
- Electric consumption is 156Kw.h.
- Oil consumption is 30 liters per hour (any kind of cooking oil is available, such as sunflower oil, corn oil, bean oil, peanut oil, rapeseed oil, etc.).
| | | | |
| --- | --- | --- | --- |
| No. | Machine | Size | Power |
| 1 | Lifting Machine | 2400*900*1600mm | 0.55KW |
| 2 | Potato Washer Peeler | 2800*850*1400mm | 4.37KW |
| 3 | Picking Belt | 2500*900*800mm | 0.75KW |
| 4 | Potato Cutting Machine | 950*800*950mm | 1.1KW |
| 5 | Bucket Hoist | 2200*900*1600mm | 0.75KW |
| 6 | Impurity Removal | 2000*800*1300mm | 2.2KW |
| 7 | Rinsing Machine | 3000*1000*1300mm | 5.25KW |
| 8 | Blanching Machine | 4000*1000*1300mm | 100KW |
| 9 | Vibration Dewatering Machine | 1800*1230*1020mm | 0.5KW |
| 10 | Wind Drying Machine | 3500*900*1600mm | 7.1KW |
| 11 | Lifting Machine | 2000*700*1300mm | 0.55KW |
| 12 | Continuous Frying Machine | 4000*1100*2200mm | 120KW |
| 13 | Vibration Deoiling Machine | 1800*1230*1020mm | 0.5KW |
| 14 | Wind Drying Machine | 3500*900*1600mm | 6.75KW |
| 15 | Lifiting Machine | 3000*900*2100mm | 0.75KW |
| Total | French Fries Production Line | L44M*W4M | 251.12kw |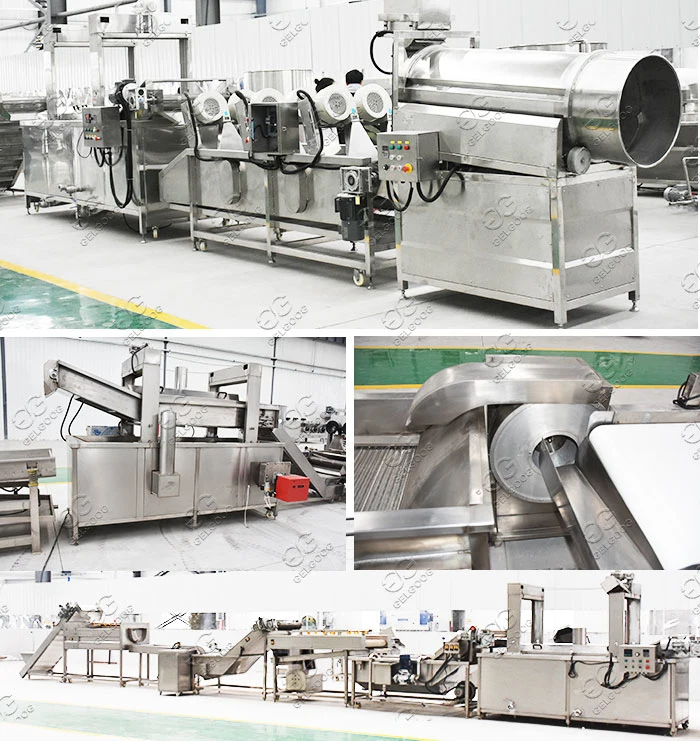 Henana Gelgoog machinery is committed to being a global leader in the food machinery industry, and our mission is to make food production simpler and safer. We provide quality products and solutions for food users in the fields of food machinery, fruit and vegetable equipment, ice cream cone machinery, nuts processing machinery and packaging machinery. Customers have spread to nearly 200 countries and regions around the world, and the export volume of foreign trade has increased by more than 70% per year for several years.The company's products have passed CE certification and ISO9001-2015 international quality management system certification, and in line with food business QS standards. After years of hard work and innovation, Gelgoog has been exported to United States, Russia, Canada, Australia, Britain, France, Malaysia, Spain, Thailand, Indonesia, Vietnam, Iran, Brazil and Bolivia, etc.. Enjoy a high reputation.The company has strong technical strength and standardized management. It not only has a leadership team composed of enterprise management personnel, professional designers and engineers, but also has a large number of employees with many years of production experience. At the same time, it has introduced foreign equipment and production technology, research and development, manufacturing and Sales, providing global customers with complete solutions for food production and processing.Strength is the guarantee of credit, and integrity is the foundation of development. We sincerely invite new and old customers at home and abroad to come to the company to cooperate for common development